VSG-372A High Speed Softgel Production Line—A Complete Turnkey Solvent Free Softgel Encapsulation System Vanguard Pharmaceutical delivers the most dynamic and latest innovative technology of softgel manufacturing line in the industry. We combined the New Solvent Free Technology, New Advanced Cooling System without the noise and hassle of outdoor cooling system, Automatic Linear Geared Injection Segment System and Higher Production Capacity.
Our new high speed softgel machine line has a perfect solvent free system with special unique design that makes softgel capsules without solvent cleaning which makes the capsules dry faster and can save the labor and material costs tremendously over time. The softgel capsules do not need cleaning or washing by solvent for printing on the capsule and quality control. This is a perfect system that can eliminate or avoid EPA compliance and regulations. In addition, it does not need too much oil applying on both gelatin sheet ribbons; and it does not need solvent washing. There is no need for lengthy tumbling dryers, which cost much more money and require larger space. The new larger die roll can produce more softgels than any other equipment in the industry.
Our new softgel machine has a gas cooling system and the cooling unit is built inside the machine, which has more stable cooling effect with no deviation in cooling temperatures. With this cooling system, it does not need additional outside chiller/cooler, and no need to connect water hoses between the main machine and outside chiller. Our high speed softgel machine comes with an Advanced Gelatin Ribbon Supplying System with a horizontal gelatin supply system without twisting gelatin ribbon; and it does not require much lubricating oil on the gelatin ribbon. Also, the VSG-372A Softgel Encapsulator has a new conveyor system, which is an improved design from the old air blowing system. It prevents air contamination, reduces noise and meets the cGMP Standard. We guarantee precision pumping and filling accuracy of 99.5% unlike PharmaGel equipment guarantee at 99% filling accuracy, and other softgel machines offer only at 98% or below.
Model VSG-372A Softgel Encapsulator
Specifications:
Production Capacity

50,190 Capsule/hour
(#20 Oblong)

101,010 capsule/hour
(#7.5 Oval)

Production Rate
Max 3.5 rpm (Normal 2 ~3 rpm)
Size of Die Roll
150mm (diameter) x
250mm (length)
Quantity of Plunger
20 Plungers
Size of Cooling Drum
500mm (diameter) x 250mm
Main Motor
3HP with Speed Controller
Power Source
220V/380V x 50Hz/60Hz x 3Phase AC
(As per the Buyer's requirement)
Power Required
15Kw
Dimension
2,250mm(L) x 1,540mm(w) x 2,080mm(h)
Weight
2,000kgs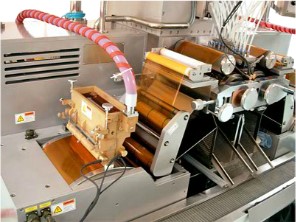 Automatic Softgel Sorting Machine
Specifications:
Function

Automatic Sorting according to capsule Diameter

Sorting product

Softgel - round, oval, oblong

Sorting Method

By capsule diameter

Sorting Precision
Sorting Limit Size

0 ~24 mm

Weight

400kg

Electric Power

0.6kw

Sorting Capacity

150,000~300,00/HR
(depend on shape and size)

Dimension

1,620(W)x710(L)x1,600(H)